"It protects well and it doesn't clog my pores…" -Rebecca R.
CHEMICAL-FREE SUN CARE JUST FOR YOU
Facial Sunscreen - SPF 20
Your face deserves a little love. Keep it safe and happy with our Mineral Facial Sunscreen. We skipped the parabens, phthalates, and nano-particles to give you just what your lovely complexion needs: SPF 20 protection without any fillers, drying ingredients, or silicones. 
Shipping & Returns Info

SHIPPING POLICY

ALL US orders for $60 or more (after discounts and before tax) ship FREE!* We pride ourselves on fast, accurate delivery, and great service.

Need help? Give us a shout!

*Free shipping is restricted to the 48 continental states, excluding Hawaii, Alaska, and Puerto Rico.

RETURNS POLICY
Love it or get your money back!If you're not satisfied with your purchase you can return it within 30 days – HASSLE FREE and we will refund the original purchase price of the product. It's really that simple.

HOW IT WORKS
1. Email info@beautybyearth.com your return request with the following information:a. Contact information (name, phone number, email address)b. Place of Purchase (Website, Amazon, etc.)c. Order Numberd. Item Purchasede. Reason for Return

2. Beauty by Earth will email you a shipping label to return the item.

3. Mail your return, using the label provided, back to Beauty by Earth with the following included in the shipment:

a. Original Purchase Receipt

b. A Note Stating Reason for Return

Refunds are processed within 2 to 5 days and will be re-credited to the original method of payment.

Please note the following items are non-refundable:

-Original Shipping Charges and Shipping Protection Charges

-Gift Cards

-Beauty Bloopers

-Gifts, freebies, or samples.
We make it easy
30-Day 'Love it or Money Back' Guarantee
THE DEETS
SKIN TYPE

This sunscreen is made for all skin types, even those with sensitive skin!

SCENT + TEXTURE

This sunscreen is smooth to apply with a neutral scent.

AMOUNT

Just a few swipes across the skin and rub in!

FREQUENCY

Apply in the morning and as needed throughout the day!

TIME TO RESULTS

This sunscreen once rubbed into your skin is ready for daylight immediately!

REPLENISH

2-3 months is the typical replenish rate for all sun lovin' babes.
What's Inside
Select an ingredient to see where it's from, why we picked it, and other products with similar ingredients.
Ingredients in Facial Sunscreen - SPF 20
Organic Aloe Barbadensis (Aloe Vera) Leaf Juice, Organic Cocos Nucifera (Coconut) Oil, Sorbitan Sesquioleate, Glycerin (Vegetable), Glyceryl Stearate SE, Organic Helianthus Annuus (Sunflower) Oil, Organic Simmondsia Chinensis (Jojoba) Seed Oil, Ricinus Communis (Castor) Seed Oil, Organic Rosmarinus Officinalis Leaf Extract, Magnesium Sulfate, Ascorbyl Glucoside (Vitamin C), Xanthan Gum, Organic Argania Spinosa Kernel (Argan) Oil, Organic Cucumis Sativus (Cucumber) Fruit Extract , Organic Ginkgo Biloba Extract, Radish Root Ferment Filtrate, Cupressus Sempervirens (Cypress) Leaf Essential Oil, Citrus Paradisi (Pink Grapefruit) Essential Oil, Zinc Oxide (Non-nano)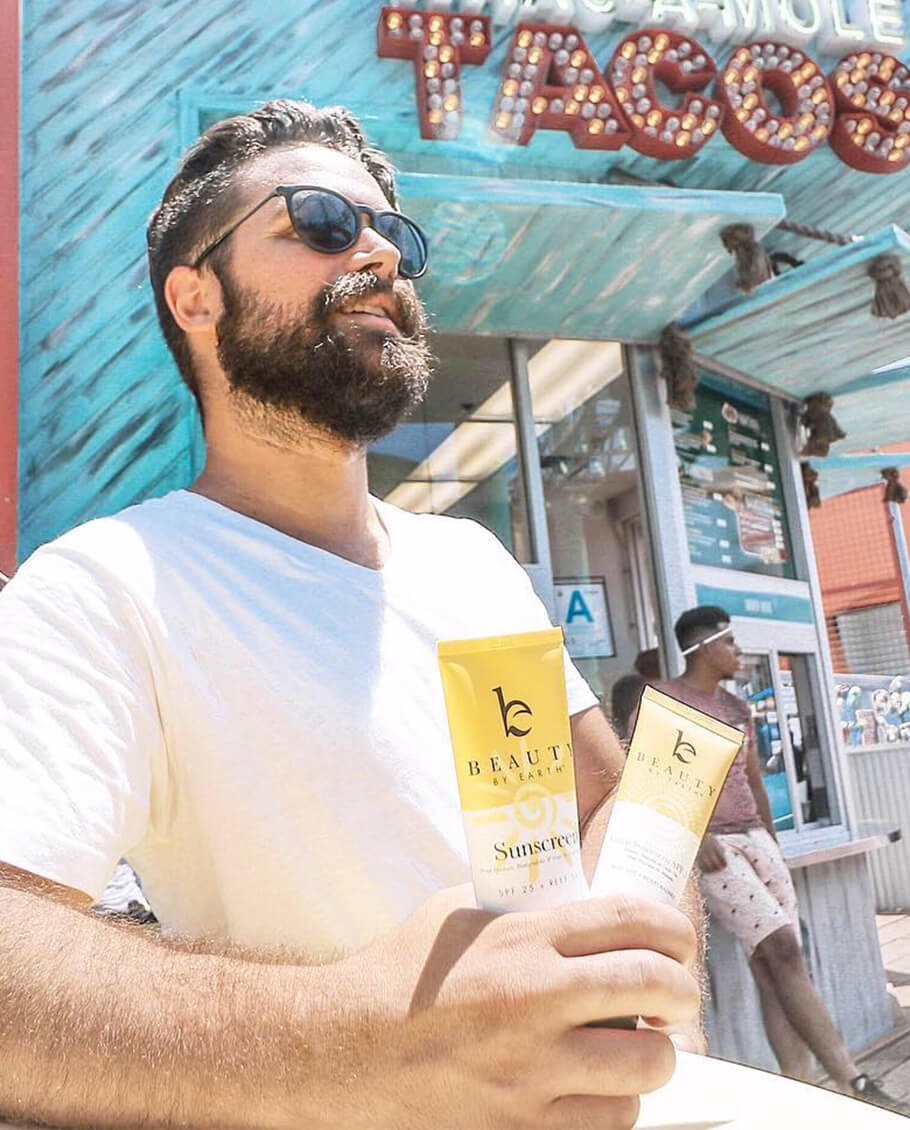 It protects well and doesn't wash off in the water. And it doesn't clog my pores and cause pimples!!

How to use
Step 1:

Wake up! Our facial sunscreen is best used in the morning.

Step 2:

Apply to your neck, nose, forehead, chin, and upper lip. Extend your application to your hairline, and any exposed portion of your chest.

Step 3:

Have a little extra sunscreen on your face? No worries. It will rinse away with water.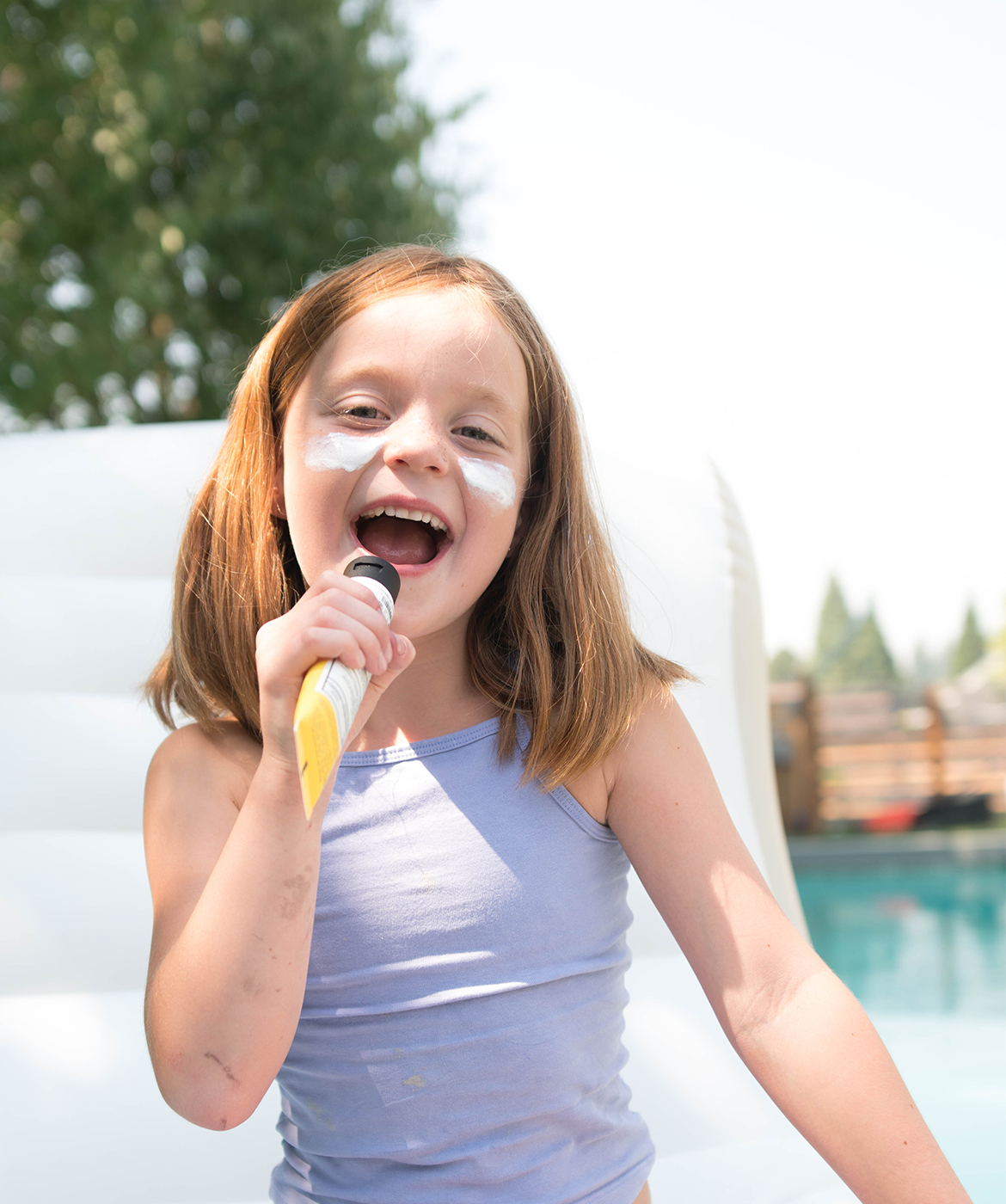 OUR FACIAL SUNSCREEN IS DIFFERENT:
Broad Spectrum UVA/UVB Protection
Mineral Non-Nano Zinc Oxide Based Sun Protection
Water Resistant up to 80 Minutes
Coral Reef & Marine Friendly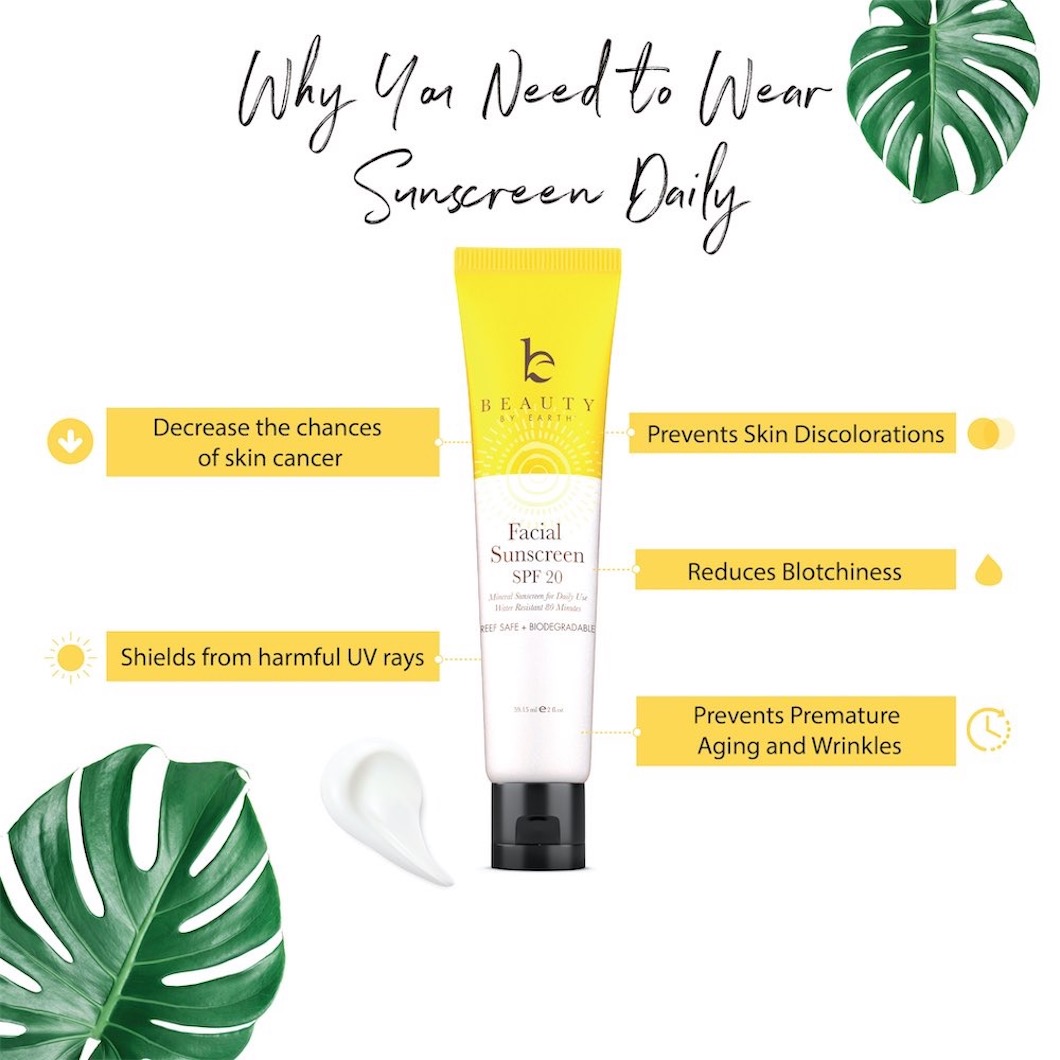 Frequently Asked Questions
Our facial sunscreen is not certified organic. However, we always use organic ingredients whenever they are available. Our face sunscreen contains organic aloe vera leaf extract, and a number of other nourishing, naturally derived ingredients.

It sure is! The active ingredient in our facial sunscreen is zinc oxide. Because it is a mineral sunscreen, it sits on top of your skin instead of sinking into it. It's a lot safer than chemical sunscreens, which are absorbed by the skin.

We recommend applying our sunblock in the morning. Put it on after you wash your face but before you put on your makeup. Apply a generous amount to your neck, nose, forehead, chin, and upper lip. If you're wearing a v-neck shirt, add a little sunscreen to the exposed portion of your chest too. Make sure you use sunscreen every day, even if it's cloudy!

Absolutely! We don't use phthalates, parabens, sulfates, or other junk that is known for causing skin irritation.

Yes, our face sunscreen moisturizes as it protects your skin. It is formulated with organic butters and oils specifically for their moisturizing properties.

This sunscreen will protect your face from the type of sun damage that can lead to aging. Wear it every day to avoid the type of skin damage that can lead to wrinkles, fine lines, and age spots.

Our sunblock is light, non-greasy, and designed not to block your pores. Many of our customers have reported that they don't experience breakouts with this sunscreen, even when they have from others.

It sure is! Sunblock is equally as important for fellas as it is for ladies. This sunblock doesn't have a strong scent, plus it contains aloe vera leaf juice, so it will feel amazing if you apply it after shaving.
Our face sunblock is SPF 20.

You can find plenty on our Amazon Page – head over and check it out!

Sure is! It contains no oxybenzone, no microbeads, or other bad boys known for jeopardizing marine life. Wear it with confidence on your next beach day.

Why yes, we do! Shoot us an email at wholesale@beautybyearth.com and we'll hook you up.

We'll never put these bad dudes in any of our products.
Nope:

Parabens, Sulfates, Fillers, or other junk.

No way:

Synthetic Fragrances or Dyes.
CHEMICAL-FREE SUN CARE JUST FOR YOUR PRETTY FACE.
Your face deserves a little love. Keep it safe and happy with our non-toxic Facial Sunscreen.
PROTECTION YOUR SKIN WILL LOVE: Even just a little sun exposure can mean a lot of damage for your complexion. Protect your skin with our mineral facial sunscreen. Designed for daily wear and formulated with safe, natural ingredients, it will protect you from sunburn, skin damage, premature aging, and skin cancer.
SAFE AND EFFECTIVE: Unlike chemical sunscreens, which sink into your skin, our mineral facial sunscreen forms a barrier by sitting pretty on your skin's surface. The secret is non-nano zinc oxide. It protects you from UV radiation without entering your body's systems. The results? Happy, healthy skin.
PERFECT FOR DAILY WEAR: We've formulated our facial sunscreen with plenty of nourishing ingredients, including aloe vera leaf extract and vitamin E. This makes it a perfect way to moisturize and nourish your complexion. It's safe for all skin types to wear every day, so you never have to worry about leaving the house unprotected.
GREAT FOR THE ENVIRONMENT TOO! You should never have to choose between what's best for your skin and best for the environment. Our facial sunscreen is reef safe, marine friendly, and safe for all ages. We source all of our ingredients from environmentally friendly sources, are 100% cruelty-free, and make all of our products in the USA.
LOVE IT OR LET US KNOW: We know you're gonna love what our mineral facial sunscreen can do. We're so confident that we'll even guarantee it. Every product we sell comes with a 1 year, 100% Customer Satisfaction Guarantee. If at any point over the next year you don't love your sunscreen, just send it back and we'll give you a full refund - no awkward questions required.
Let the Sunshine In!
Who doesn't love a nice, sunny day? Greet the sun with a smile - and plenty of protection - with our mineral facial sunscreen. We've formulated our non-nano mineral sunscreen to give your complexion high-level sun protection without exposing you to dangerous, toxic, or sketchy chemicals. Wear it every day for sun protection and plenty of natural nourishment for your skin.
The sun doesn't need much time to cause damage. In fact, just a quick stroll down the block gives it plenty of opportunities to impact your skin. Sun exposure can lead to sunburn, premature aging, skin damage, and even skin cancer. That's why wearing a facial sunscreen every day is so important. Simply apply your sunscreen before putting on makeup to make sure your face is safe all day.
Like all of our products, our facial sunscreen is cruelty-free and created from sustainably sourced ingredients. We've skipped the parabens, phthalates, and chemical-based active ingredients that sink into your skin. With the protective power of non-nano minerals, you'll never have to worry about the impact your sun protection is having on your body or your environment. So don't wait to see the difference that natural sun protection can make! Trust us - your face will thank you.
How to Use Your Mineral Facial Sunscreen
Wake up! Our mineral facial sunscreen is best used in the morning.
Wash your face.
Squeeze a quarter-sized amount of facial sunscreen onto your fingertips.
Apply to your neck, nose, forehead, chin, and upper lip.
Extend your application to your hairline, and any exposed portion of your chest.
Proceed with your regular makeup and body sunscreen routine.
Have a little extra sunscreen on your face? No worries. It will rinse away with water.